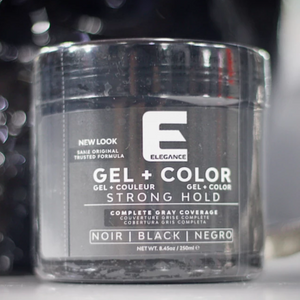 Elegance Hair Gel + Black Hair Color | White Grey Color Touch Up | Covers White Hair
Strong hold gel formula plus instant black hair touch up for white/gray hair. The perfect solution to cover gray hair while adding a strong hold hair gel instantly. Style your hair and cover white/grey hair at the same time. This styling gel not only finishes shaping your hair, but it also assists in concealing the unwanted grey/white hair. Style hair first and depending on the length and thickness of your hair, apply the tinted gel to cover the dry grey/white hairs gingerly. The black tint and subtle styling gel will last for the entire day, although excessive sweating activities should be avoided. The hold and black color tint are temporary and can be used occasionally or on a daily basis. Elegance Plus Styling Black Gel is specially formulated to cover white hair while adding a stronghold to your regular hair style.
Instant black hair touch up
Gel formula with strong hold
Rinses out instantly
Long lasting shine
Delivers great volume
Excellent quality and flake free
Refreshing fragrance
Size: 100 ml or 250 ml. This product is sold by weight not volume.
Hold Time: All Day.
Strength Rating: Strong.
Directions: Dose the amount that you need according to the white/grey coverage area, length and state of your hair into your hands and use fingers to work it well into your hair creating the desired style. Fit with your daily use. For best results avoid all activity that may cause excessive sweating.
Ingredients: Aqua, Ethanol, Dimethicone, Glycerin, Castor Oil, PEG 400, Fragrance, Tetrasodium EDTA, Caton C.G, Propylene Glycol, D. Panthenol, Benzo phenone, Tryethanolamine, Polyacrylic Acid, Polyvenyl Pyrolidone, Carbomer, Venylacetate Copolymer, Cl 77499 and Cl 77510.